SEO is integral to today's digital world. Many businesses implement SEO strategies to get more leads and sales. Ignoring customers that could find you on the Internet could be a costly strategic mistake. In this article I explore why you need SEO for your tree care business, what the rewards are and whether the investment is worth it.
SEO stands for Search Engine Optimization. It's how we create a website targeted toward our ideal customer avatar and how we can make them aware of our tree care company.
Because SEO is a content creation and optimization strategy, it can also position our tree care business as an expert in its field.
Local SEO Tips For Tree Services
National SEO targets website traffic acquisition across a continent. Local SEO targets website traffic acquisition across smaller regions such as towns and cities.
Local SEO is vital for tree care businesses because they primarily work within a service area – a geographic region – and local SEO strategies allow a website to appear in front of searchers who want to find tree care services where they live.
When putting SEO in place to attract local business, we have to set up an attractive and user-friendly website. We can create website pages for each location we serve and pages telling a visitor what services we offer.
We also have to set up a Google Business Profile that tells Google the name, address, and contact details of our business. We should also list its service area, opening hours, and the tree services it offers.
Your tree service website should also be mobile-friendly. We all use our phones throughout the day and do most of our searching on a mobile device.
Consider the way you find a local service business. You reach for your phone and type in 'find a plumber near me.' Your customers do the same thing!
If they want to find an arborist in Houston, Texas, they might search for 'arborists in Houston.' It's a great idea to show up in the search results if you service that city.
Why You Need SEO For Your Tree Care Business
A company website is like a brochure or a calling card. It shows your brand and offers visitors a look at who you are.
We want visitors to know that we are their go-to tree service business.
We are all online today, and finding answers is no longer done by pulling out a little yellow book and flipping the pages to find arborist services.
Now we use the Internet to find solutions to our problems. The only answer to showing up is SEO.
We need to show up for buyer-related search terms such as 'tree trimming near me' and 'stump removal.'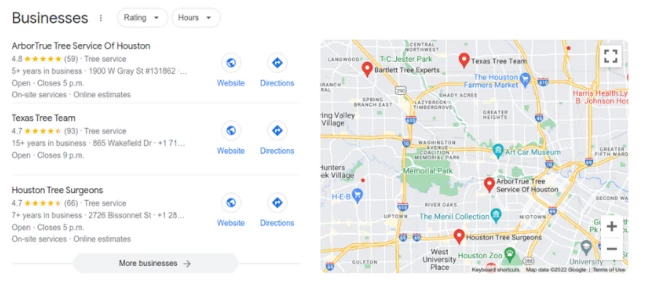 How To Show Up For Your Tree Service Customers
You can do all the tree service marketing you like, but you can broaden your reach if you employ SEO. You can engage website visitors and turn them into leads; you will have a lead-generating machine that works while you sleep.
And if you do the job right, you will capture leads that your competitors miss because you get in front of those leads first and show them a compelling reason to do business with you.
The infographic below shows five things you can do to get more local business today! These five actions are an example of basic SEO in action.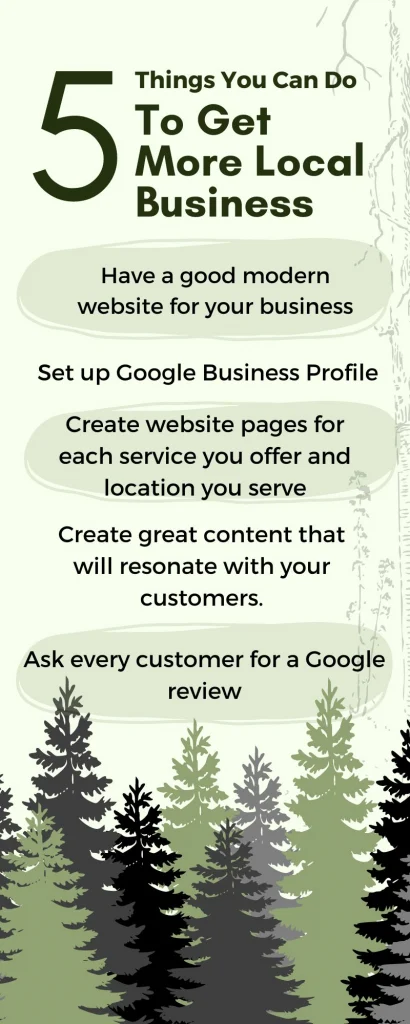 Building an online presence through a great website and SEO does take time. It could take up to a year to get real traction. But you could start to see some results within three to six months.
Because your website will show up in search engine results when you employ SEO strategies, you will get more qualified website traffic. Good SEO matches our website pages with the searcher's intent.
Match the searcher's intent with a compelling message then you are poised to nurture them toward doing business with you.
Our goal is to give a searcher the best answer possible. We want to appear there if they are looking for tree service companies.
Your Google Business Profile will also allow you to appear as a local company when people search for your services. And local customers are, of course, the most important to a tree services company.
Google reviews also play an essential part in helping build trust with potential customers. Your Google Business Profile is the best way to show positive reviews in front of a potential customer.
If you can build an effective review strategy around satisfied customers and get them to review you on Google, your authority increases considerably.
Having a content creation strategy in place will also help grow trust. Producing valuable and high-quality content engages website visitors.
Your potential customers seek articles and blogs that help them find answers to problems and give fantastic information, which can generate high-quality business leads and position you as an authority in your field.
To give your content a boost in Google's eyes and to build more trust and authority for your website, you should get high-quality links from tree-related websites to refer to your articles.
For example, you could ask the ISA to refer its members to your blog article. Having links from trusted sources tells Google your content is of value to searchers and helps your website get a better SEO ranking.
There is a cost associated with SEO, but it tends to be lower than other marketing activities and is also not a one-time deal.
Once website pages rank in Google and get in front of searchers, maintaining a position in Google takes monitoring and simple revisions over time. The benefits given by SEO exist for the long term.
You can allocate time in your week to perform SEO optimizations yourself or employ a professional SEO expert to help. It's worth investigating the investment as it will likely yield a good ROI.
Measuring SEO Results For Your Tree Service Company
The right SEO partner – such as us at Tree Care SEO Services – will work with you to ensure you get the expected results. They will guide you through the whole SEO process and include you in every step.
Because SEO is quantifiable, measuring just about any metric is possible. For a tree services business, the most critical metrics are website traffic growth over time and the leads that come from that traffic.
These days it's even possible to implement call tracking so that you can see which pages and content yield more phone calls and sales.
Utilizing tools such as Google Analytics 4 helps you understand where visitors to your website come from, what actions they take, and their engagement level.
You can do as much or as little search engine optimization on your website as you like, but any should result in forward progress. It's just a matter of being consistent and doing the work.